Furniture and Unique Woodworking


We Also Build Furniture 

  If you are looking for a custom piece of furniture that you have never seen before, then you're at the right place. Show us a photo or drawing or have us design something for you.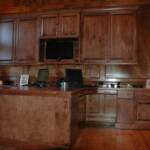 In Home

Fish Pond

With Bridge 

 We had an overlook from our great room to the downstairs and wanted an interesting and unique feature to fill this area. As an added bonus, we were able to stop using the humidifiers in the winter because of the extra moisture that the pond supplied. With the right kind of fish there was never a problem with an odor or keeping it clean.

Fire Feature Column Top 

 When we built our deck with three stone columns, we only had two large matching lights to add to the tops.  This turned out to be a blessing in disguise when we found the copper fire pit in our basement that we had never used in our yard.  After running the necessary lines for the propane, we ended up with this unique way of adding light and interest to that middle column top.

Waterfall Fireplace Feature 

 With such a tall fireplace, we wanted to add a point of interest. We thought of using a painting or possibly wall art but decided on building a waterfall instead, with slate as the back-ground.  This photo was taken a few seconds after the switch was turned on so that you can see how the water flows evenly across the top. The pump is hidden in a container within the mantle.