Cabinetry for Bars and Entertainment Rooms


Bars and Entertainment Rooms

  In recent years the downstairs area has become the most popular room for us to remodel. We have always had requests for kitchen and bathroom renovations, but the home entertainment center and bar area seems to give our customers the most satisfaction with that "WOW" factor. It usually turns an unused area into the most liveable space in the house. Some people even decide to add a workout room or spa. We just finished building a shuffleboard bar top. We built one of those years ago and the homeowner said it was a big hit and it was something unique and fun. We enjoy designing unique items and like the challenge.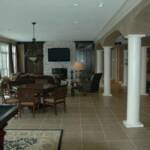 A custom art glass window was designed to be able to view the wine cellar behind the built-in bar wall.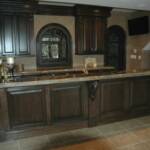 Click on small images to enlarge.

Bar Design by Monique Hejna

Contact info:

(314) 581-5632

hejnamonique@gmail.com

Hawkins Handcrafts

A division of Hawkins Construction, Inc.

hawk4218@yahoo.com

(314) 220-8757

We remodeled this bar keeping the original shape and recommended something unique.  

Adding a custom built shuffle board top makes a great addition to the entertainment room.  Players slide the discs from both ends. 

A separate level is built up for drinks. 

Here is a video of our first shuffleboard game after installation. 

Restaurant Renovation

  In the spring of 2013 we were fortunate enough to be able to do major renovations for Charlie Gitto's restaurant on The Hill.

The original room with the bar was completely re-done with new cabinetry, counter and podium.

 Along with this major change, the back entryway by the outdoor patio and the bathrooms were remodeled.  The Lasorda Room was also updated and we are looking forward to expanding the area off this room to include a fire and water feature.

  The interior designer throughout this project was Debbie Donnelly of Donnelly Interiors.

Cabinetry for Bars and Entertainment Rooms

hawk4218@yahoo.com

(314) 220-8757

Interior Design by

Debbie Donnellly

Contact info:

(314) 565-1533

www.donnellyinteriors.com

Before shots of the restaurant below

Hawkins Handcrafts

A division of Hawkins Construction, Inc.

hawk4218@yahoo.com

(314) 220-8757