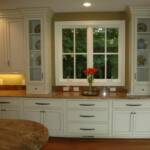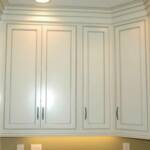 Kitchen Cabinetry

  This is a kitchen we built as new home construction. Currently, it has become popular to make the island in a kitchen stand out from the rest of the cabinetry. Sometimes this is achieved by using a contrasting countertop. In this case we used a different color for the paint finish. With as many cabinets that appear in this kitchen, it was nice to see a change that would make the island really stand out.

New Island Layout

   In the before photos of this kitchen you can see that the counter forms an "L" shape and divides the dining area from the kitchen.  By changing the layout to incorporate an island with seating, the space is more open and inviting. We were very happy with the elegant yet comfortable feel all the rich wood provides.

Hawkins Handcrafts

A division of Hawkins Construction, Inc.

Call for free estimates

(314) 220-8757

in the St. Louis metro area 

Kitchen Design by Monique Hejna

Contact info:

(314) 581-5632

hejnamonique@gmail.com